As a Drexel student, it is hard to imagine Beaver Stadium on a Saturday, or the Carrier Dome when Notre Dame comes to play Syacuse. Yesterday, myself, along with anyone else that attends or works at a modest university with moderate athletic facilities, were reminded how "the other half" lives; boy were our eyes opened.
Schooled: The Price of College Sports
premiered last night in New York City. Myself, along with Drexel SMTSU President Kevin Rossi, Drexel Sport Management Undergrad Tyisha Butler, and Drexel Sport Management Professor Dr. Ellen Staurowsky attended the film premiere at The Paley Center for Media in Manhatten. The film, an EPIX Original Documentary, highlights the "in-and-outs" of the multi-billion dollar industry that is college sport.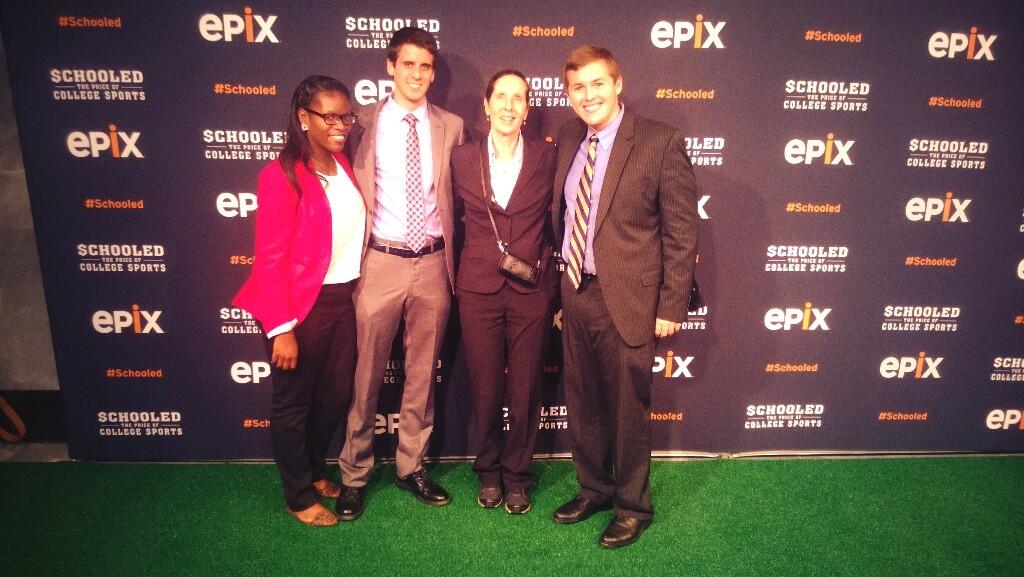 The film, imagined and produced by Andrew Muscato, is based off of an article and book written by Taylor Branch, a Pulitzer price winning author and historian. Branch's article,
The Shame of College Sports
,
has been hailed as the most important journalistic piece ever written about college athletics.
Schooled
stars the likes of
Arian Foster
,
Bob Costas
,
Jay Bilas
,
Joe Nocera
,
Dave Zirin
, and
Michael Rosenburg
. Also in the film, and highlighted at the premiere, were President of the NFL Players Association, and former Defensive back from Maryland who spent 7 seasons in the NFL,
Domonique Foxworth,
and former University of North Carolina fullback
Devon Ramsey
.
The film began with hard-hitting facts about college athletics and a history lesson on how the current "cartel" that we call the NCAA was created, as well as the manufacturing of the term "student-athlete" by the first Executive Director and founder of the NCAA, Walter Byers. This was followed by horror stories of injustice with injuries, monopolization, and the profiting of billions of dollars off the backs of college athletes struggling to buy food to eat. Foster went as far as to say that his coach committed an NCAA violation during his senior season at Tennessee because after playing a game attended by 107,000 fans, he came back to his dorm to find no food in his refrigerator and no money in his wallet to buy any. He called his coach who quickly brought over 50 tacos for Foster and some teammates. Foster that day had played football in front of 107,000 fans (cheapest ticket selling for $30.00), yet he couldn't afford to eat dinner.
Devon Ramsey, and Mary Willingham, former academic advisor for student athletes at UNC, spoke about the academic fraud that occurred at Chapel Hill beginning in 1995. Athletes, primarily football and basketball players, were given "independent study", better known as "essay classes", to fill 3 credits per term. This class only required each athlete to complete 1 essay for the entire term, and never required the athlete to attend class. Willingham is
quoted as saying
that, "100% of those with 'essay classes' on their schedule received an A or a B." This academic indecency was magnified by statements made by Foxworth. During his time at Maryland, all athletes lived by the motto "C's get degrees" and knew that an "interception on Saturdays and a C in the class room was much more beneficial to the school than no interception and straight A's."
Gerald Gurney, professor at the University of Oklahoma and nationally recognized expert on college athlete eligibility, reinforces this sentiment stating that a student-athlete's time in the class room is not about educating that individual, it is only about keeping them eligible. All of these arguments are the backbone to the defense against college administrators that stick to the fact that student-athletes are "students first, athletes second" and are receiving a free education.
Other interesting sections of the film included Fosters comparison of college athletes to indentured servants. Harvey Perlman,
Chancellor
of the University of Nebraska-Lincoln, is quoted in the film that yes, students are receiving something in return for their athletic abilities: room and board, textbooks, and free tuition. Foster makes the statement that while looking up the definition of indentured servant he saw many
similarities
, "work for a fixed period of time...in exchange for food, clothing, lodging, and other necessities." Thought slightly obscure, you can get the comparison.
If you are interested in college sports, or want to know more about it, the documentary
Schooled: The Price of College Sports
will be aired on
EPIX
on October 16th, 2013, at 8:00pm.
---
Kevin Murray is a Pre-Junior Sport Management Major at Drexel University, originally from Havertown, PA. He worked in the Drexel Sport Management Department as a Research Assistant focusing on the Penn State scandal, equity in collegiate sports, and Title IX.

He completed his first co-op last spring with Drexel Athletics External Relations Department, where he still works part-time. He is currently a Resident Assistant in University Crossings, a member of the Undergraduate Student Government Association, and Vice President of SMTSU.

You can follow Kevin on Twitter
@kevinj_murray
.