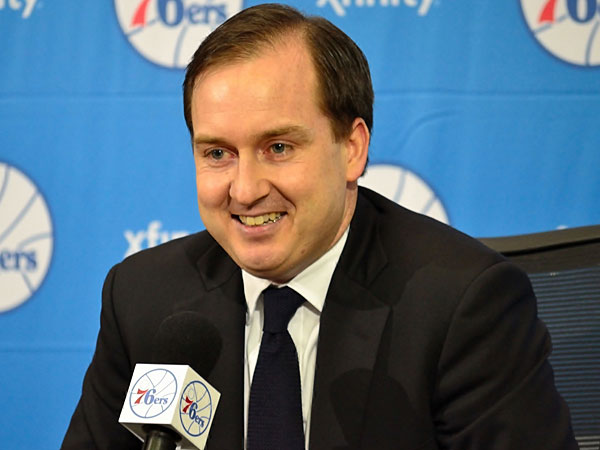 Sam Hinkie, 76ers GM (Philly.com)
As we sit a little over a month away from pitchers and catchers reporting and near the halfway point of the NBA season, the Sixers and the Phillies each find their respective immediate futures rather bleak. The Sixers sit at 7-30 as of Wednesday morning, and winter projections have the Phillies trending further below their 73-89 record from a season ago.
Despite the current mutual futility, it feels as if the Sixers are closer to a significant upswing than their neighbors across the street. Part of this feeling stems to some degree from the honesty and public relations savvy with which the respective managements have approach the rebuilds.
I'll start with the Phillies as the base because I think it's the most common approach taken by professional teams.
We know that Ruben Amaro, Jr. has been deeply criticized for holding onto hopes that the aging core could again produce at their peak, mid-2000s level. Regardless of where you personally fall on this issue, the chasm between public opinion and the organization's message through Amaro's public statements was concerning at the very least.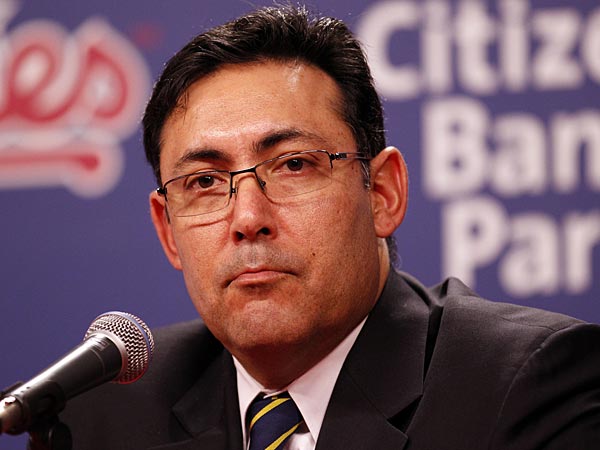 Ruben Amaro, Jr. (Philly.com)
As another postseason came and went without the Phils, the tune started to shift at varying degrees. Pat Gillick, senior advisor and interim CEO, said in October the
team will not be contenders in 2015 or 2016
. Amaro cooled a bit too in both his vocabulary -- using words like "retool" or "restock" but generally avoiding the dreaded "rebuild" -- as well as his actions --
trading franchise shortstop Jimmy Rollins
and
actively engaging in Ryan Howard trade talks
.
Farm systems and prospects are often how teams can drum up hope among the fan base, but the Phillies are working their way back up from the ground floor after major trades depleted the system. Perhaps this leaves the team's willingness to spend big when they feel the move is right as one of the only sources of hope.
Over in the Wells Fargo Center, however, the Sixers management and fans are on the same, honest page: "Together We Build."
When general manager Sam Hinkie (and later head coach Brett Brown) were hired in 2013, the message that the team was going to undergo a long rebuilding process was clear. Since Hinkie took the reigns, he has made dozens of moves, totally remaking the roster and hoarding future draft picks, or "assets" as Hinkie likes to call them.
The plan for rebuilding is clear. Collect the "assets" that will either result in home-grown draft selections or trade picks for able-bodied NBA players. It's simple in theory, but it's boldness cannot be understated. Fans are forced to trust the process and Hinkie -- a first-time GM -- for three to five years before they know whether it had worked. That's a lot for a professional team to ask, especially when the bottom-line will undoubtedly be impacted.
What this more open and honest approach can do, too, is loosen some of the pressure on the head coach. There are countless examples of head coaches being thrown into impossible, no-win situations, only to be stuck with the blame and ousted in less than two years. Brown has been able to benefit from a cool seat, building a rapport with the players and organization in order to be properly evaluated.
Ryne Sandberg, the Phillies' manager, has not been so lucky
.
One distinction that must be pointed out, though, is where each team was beginning their rebuild from. The Phillies had been to the World Series as recently as 2009 and still employed many of the main pieces. The Sixers, on the other hand, have only had two seasons over .500 and one playoff series win since Larry Brown left after 2002-03. This fact makes it a bit easier for the Sixers to enter into a long-term rebuild, because fans are still expecting the Phillies to compete.
When the Sixers
first released their "Together We Build" campaign
, it was hard not to be skeptical. Teams normally avoid admitting defeat before the defeats pile up because of the obvious impact that could have on profit-margin. But the more I thought about it, the more I thought, "Why not?" Times were tough and were going to remain tough; this approach could at least keep fans on board for the long-haul.
A "Together We Build" type of campaign would likely be too drastic for the Phillies, but there's a lesson to be learned in having a consistent message and public relations plan through the tough times.
Fans now have ample outlets to follow teams, and they're not blind. Treat them accordingly, and be honest. Teams will have a stronger base of avid fans when back on the ascent.
---
Kevin Rossi is a senior Drexel Sport Management major with minors in Communications and Business Administration. Since joining the SMTSU, Kevin has worked his way up the ladder to President.
Currently, Kevin is serving as the Sports Information Assistant for Drexel Athletics and intern at Comcast SportsNet in web production. Kevin has writing experience with Philahoops.com, The Triangle, Temple University, and various outlets in a freelance capacity. Follow Kevin on Twitter
@kevin_rossi
.