Over the weekend, if you were watching Georgia Tech or Georgia or Northwestern play football on national television, then you saw the beginnings of current college athletes pushing back against the fraudulent NCAA. Players on each team -
28 to be exact
-
donned "#APU" on their wristbands and towels
. APU stands for All Players United, a way for players to show solidarity in the face of injustice.
These injustices, however, have been misinterpreted by the media at times. The All Players United movement (
Is it alright if I keep calling it a movement? Thank you.
) has been seen by some as a protest against the lack of payment for college athletes.
This is simply not the case
.
Currently, the largest and wealthiest professional sports league in America, the National Football League is wading its way through the murky waters of player safety and head trauma. "How can we make the game of football safer?" has taken a major foothold in the mainstream media and is an evident undercurrent of any football broadcast these days. The NCAA has stayed quieter about concussions than Bud Selig on Oakland's relocation issues. The irony in the fact that the NCAA was created in early 1900s at the urging of then-U.S. President Teddy Roosevelt because players were dying on the field from blows to their helmet-less heads cannot be ignored here.
Players are also using All Players United as a way to show solidarity on the topic of the Ed O'Bannon vs. the NCAA lawsuit. In the lawsuit, past and
now current
NCAA athletes are suing the NCAA for profiting on their likeness well after graduation and reasonable time. The NCAA contends that a short statement in their player manual that athletes
are forced to signed in order to play
has the proper legal standing to withstand the lawsuit.
Six current football players
at the University of Arizona joined the lawsuit in July.
All Players United is also standing by the National Collegiate Players Association in their pursuit of improvement scholarship provisions. It is well-documented that scholarships are not guaranteed for all four years and all costs of attending school are not covered. Also, back to the player safety mark, healthcare benefits are only provided for the four years of the scholarship. Very few schools will extend those benefits beyond an athlete's four years on-campus even though the health damage sustained while playing college football can last a lifetime.
Ramogi Huma is the director of the NCPA and a former college football player himself. He told
USA Today
that the All Players United was an idea from a group of current players. These players were
separate
from those that had joined the O'Bannon vs. NCAA lawsuit, and the players wanted to band together in support.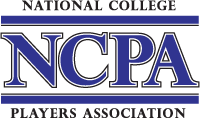 Interesting to me is the number of media members that have misinterpreted the entire thing. As mentioned, some think that the players are doing this because they want to simply get paid. Wrong, wrong, and wrong on all counts.
My personal favorite, though, are those media members that have expected major, sweeping NCAA reform because a group of players wore #APU on their wristbands. How naive. We all know that change is slow, nobody should need to be reminded of that. But all movements need a starting point, no? So why is the starting point being maliciously mocked by that are supposed to be serving as reliable media members?
This tweet by CBS Sports' Seth Davis is remarkable in its stupidity.
@RobDauster @patrick_hruby @dandakich @tomfarrey yawn
— Seth Davis (@SethDavisHoops) September 23, 2013
We know that Seth Davis may not be opinion that we should listen to most on this one. As Tom Farrey latet put so perfectly, if you have ever read Mr. Davis's work, it is certainly never going to be the first to criticize the NCAA.
"@SethDavisHoops: @RobDauster @patrick_hruby ... yawn" If so, why NCAA issuing statement? Stop hugging coaches, get back to journalism.
— Tom Farrey (@TomFarrey) September 23, 2013
Regardless of what Mr. Davis - Seth Davis works for CBS, a major media partner of the NCAA - may think, the groundswell is real. Everyone wants to put a timeline on it. When will the NCAA go down? When will college sports be righteous again?
The funny part about it all is that whether the point of All Players United is understood or misunderstood by the media, the All Players United movement is winning. The media is talking about it. The NCAA is releasing a statement on it. It's funny how those that work in the media do not even understand how their own field works. If you are talking about - positively, negatively, or indifferently - you are shedding a light on the situation. Furthermore, you are acknowledging its existence and giving people the opportunity to research and learn for themselves. #APU has made already made an impact on the sports industry, whether you choose to admit it or not.
(
Sports on Earth writer and Sport For Social Change Conference speaker Patrick Hruby weighs in on the All Players United movement.
)
This is the beginning of something larger. On Monday's episode of
ESPN's Outside the Lines
, Patrick Hruby, writer for Sports on Earth and presenter at our Sport For Social Change Conference, said, "Big changes come from small gestures. A lot of big movements come from things that seem minor at the time."
This is a change in thought that is necessary to instill wider change. This is what Houston Texans' running back
Arian Foster
was talking about when he came clean about receiving benefits while playing at the University of Tennessee. "I feel like I shouldn't have to run from the NCAA anymore,"
Foster told ESPN
. "They're like these big bullies. I'm not scared of them."
If anybody is scared now, it should be the NCAA.
---
Kevin Rossi is a junior Drexel Sport Management major with minors in Communications and Business Administration. Since joining the SMTSU, Kevin has worked his way up the ladder to President.

Currently, Kevin is also the Drexel editor for Philahoops.com. Kevin recently finished his second co-op with Temple University in their Athletic Communications office where he still writes football program feature stories and volunteers on gamedays. Follow Kevin on Twitter
@kevin_rossi
.
Connect with
Kevin Rossi
on LinkedIn.