If you didn't catch on from my recent blog posts, I'm kind of partial to the Big Ten. Also, unless you're living under a rock, you caught some recent news about the Big Ten.
Let's catch up any readers who began a hermitage in the last month: Maryland and Rutgers were approved to become the 13th and 14th members of the illustrious Big Ten Conference. So yes, the numbers still don't make sense, but the dollar signs have athletic directors, conference officials, and university presidents not asking questions.
The Big Ten Network was already a powerful force in college athletics (I remember reading
someone's brilliant musings
on that exact subject a few months ago.) Add in the New York and Baltimore/D.C. media markets (two of the largest on the East Coast) and we have the makings of an
unstoppable
media behemoth. Add in the recent news that each of the five "power leagues" would get an
average of $75 million more per year than other FBS leagues
under the college football playoff, and the money's looking very, very good.
Furthermore, with Michigan State, Michigan, Ohio State, and Indiana all looking to be elite programs, and programs like Illinois, Wisconsin, Purdue, and newcomer Maryland who are far from slouches in their own right (ignore the early struggles of Wisconsin and Purdue. Combined, they have 255 total wins and five Sweet Sixteen appearances in the last five years), the Big Ten is arguably poised to be the premier college basketball conference in the nation (although the new look ACC has some great programs.) It's a good time to be a part of the Big Ten.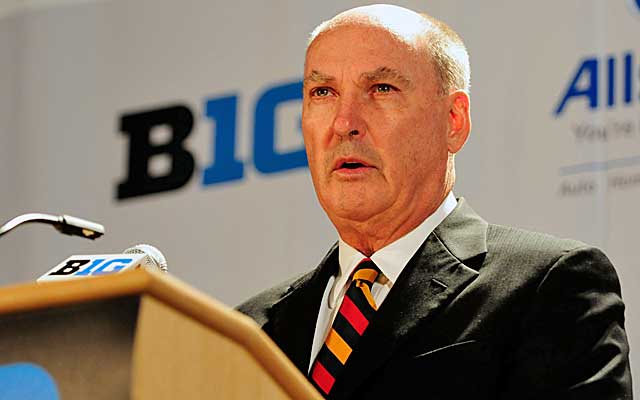 That is, unless you're a newcomer.
John Ourand of SportsBusinessJournal
reported this week that Maryland and Rutgers will likely not have their games broadcast on the Big Ten Network until local distributors give into the Big Ten Network's demand to place the channel on an expanded basic tier, a strategy identical to the one used when Nebraska joined the conference. First impressions show a
potential battle with Cablevision
in the New Jersey markets. The Big Ten Network wants to offer its programming to the largest possible group of people, and likely won't budge on their demands. This will hurt fans in these new markets who want to see their teams. This strategy worked at the outset of the Big Ten Network, where many markets (including Time Warner Cable in central Ohio) refused to come to a deal with the BTN to carry the network until days before the opening of the season.
Rutgers fans, Maryland faithful: start pressuring your cable providers now, or you might miss out on the new era of college athletics.