As you may have seen
here,
I am currently spending the summer in London studying abroad. Being that I have been here since the 20th of June, I have had the great pleasure of experiencing the Championships Wimbledon in person. Obviously with Andy Murray winning there has been a huge amount of media coverage of Murray and his family, but most of the attention has been put towards Murray's future. A lot of the media attention has been focused on the possibility that Murray may be
on his way to knighthood
at the age of 26.
Andy Murray has been debatably the most consistent tennis player in the world since last summer when he won the Olympic Gold Medal followed quickly by his first Major win at the US Open. He has without a doubt been a strong figure representing unity among the United Kingdom since he first broke the top 10 in 2007. Strong morals and a stable personal life have left Murray in good position with many through the United Kingdom; he is obviously loved by his fellow Scots but during this time of political unrest, Murray is one figure that transcends all geo-political boundaries in the UK.
For those that don't know, next year there will be a vote in Scotland to decide if they want to separate form the United Kingdom and become their own sovereign nation. Because of this impending decision there is a lot of unease for citizens of both countries. Since he first became a household name, Murray has been representing Scotland, but always also represented Great Britain and the United Kingdom as a whole, and proudly supported all vocally. This duality has led to him being accepted by the whole of the United Kingdom as their golden boy and hope for the future of the sport of tennis.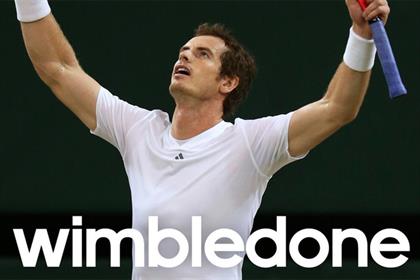 Thanks to this acceptance and popularity, Murray has recently gained a lot of attention thanks to comments made by many media outlets and especially Prime Minister David Cameron that "[he] can't think of anyone who deserves one more", in regards to the possibility that Murray should become Sir Andy Murray and be knighted by the Queen. The process for knighting is that a candidate must first be nominated by members of the public, then pass a vote by a committee, and finally be approved by the Prime Minister and the Queen.
Murray with UK Prime Minister David Cameron
A lot of different things play a role in this decision. Firstly, Murray is ONLY 26 years old. He has many years of high level tennis ahead of him, and more than likely many more Major championship victories. A knighting now would maybe make any future victories less valuable as it is the highest honor a British citizens can attain. Secondly, it is rare for a British athlete to be knighted while still playing, let alone at the peak of their play. This is not to say that Andy would slow down or fall into a lull if he were to be knighted, but it is hard to believe that any person would not get a big head from the honor.
Follow this matter closely as Murray is by far the most recognizable sport figure in the country right now and would be a natural next athlete to be honored. As a Murray (in fandom and surname) and huge tennis fan I always want the best for tennis stars, so I will be following this closely and reporting back from across the pond all summer! Follow me on twitter @kevinj_murray!
---
Kevin Murray is a sophomore Sport Management Major at Drexel University. He is originally from Havertown, PA, a small suburb of Philadelphia. He worked in the Drexel Sport Management Department as a Research Assistant focusing on the Penn State scandal, equity in collegiate sports, and Title IX. Currently, Kevin is the SMTSU Treasurer and Drexel Athletics Marketing Intern. You can follow Kevin on Twitter
@kevinj_murray
.
Connect with
Kevin Murray
on LinkedIn.