The best laid plans of mice and men often go awry. This has to be the mindset of the Los Angeles Lakers front office following a first road playoff sweep at the hands of the San Antonio Spurs. The Lakers had grand expectations going into this season after creating a proverbial super-team that brought together a starting lineup of Kobe Bryant, Pau Gasol, Steve Nash, and Dwight Howard. With four potential Hall of Famers on the court, what could go wrong?
At the beginning of the 2012-2013 NBA season, almost every analyst and pundit penciled the Lakers in as proverbial locks to make the playoffs and represent the Western Conference in the Finals. But thanks to bad luck, poor decisions, and severe negligence, the Lakers ended up within one game of missing the playoffs all together.
Their rollercoaster season all began with the firing of head coach Mike Brown. With extremely high expectations and low tolerance for failure, the Lakers fired Brown after only five games, during which the team had a 1-4 record. After Brown's arguably premature departure, Jimmy Buss and the Lakers decided to hire offense-only coach Mike D'Antoni. This wouldn't necessarily be a bad decision in most situations, but former Lakers coach and guru Phil Jackson was available and eager to coach the team. For whatever reason, personal or otherwise, the Lakers front office chose D'Antoni over Jackson.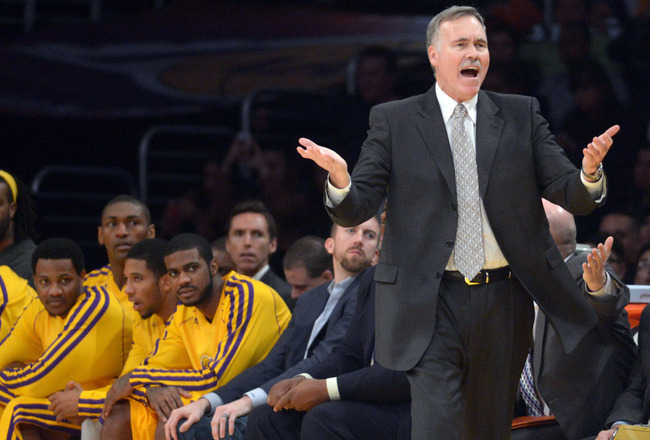 It took almost the entire season for D'Antoni to get control of his team after struggling for months to find ways to use all of his great players. The most notable mismanagement was D'Antoni's use of Pau Gasol. A star in previous seasons, Gasol had been relegated to the bench for many games because D'Antoni couldn't find ways to use a slow post player in his up-tempo offense. Around midseason, he finally figured out that Gasol should be playing closer to the basket and backing players down in the post, something he hadn't been able to do for large parts of the season. Whenever a new coach joins a veteran team, it's imperative that he adjust his game-plan to the strengths of his players. D'Antoni neglected this notion for months because he has a very specific offense he wants to employ. However, the Lakers are an old, half court team without the young and athletic personnel to run it.
Because Steve Nash played under D'Antoni for years on the Phoenix Suns, they should be a perfect fit on offense, right? This wasn't the case for large parts of the season. When Nash was healthy, D'Antoni rarely ran the offense through him. Even though Nash is one of the greatest point guards and facilitators of all time, D'Antoni took the ball out of his hands and gave it to Kobe so he could create offensive opportunities for the
team. Although this is defensible considering Nash's catch-and-shoot ability from three point range, I think Nash would have done a better job of getting everyone involved and creating a more cohesive offense.
It's not that he did a horrible job (the Lakers still finished with a 45-37 record), but I think it's fair to assume that Jackson would have done considerably better given his experience managing Kobe and other egos on the same team.
The Lakers struggles were compounded by the fact that they couldn't get away from debilitating injuries. The four superstars shared limited time of all being healthy at the same time. Dwight had chronic back and shoulder problems, Gasol had plantar fasciitis, Nash had a left fracture, and Kobe tore his Achilles in the second to last game of the season. Although injuries aren't entirely to blame, they would have given the team more time to build chemistry, while Kobe's injury made it almost impossible to compete with the Spurs because of their lack of scoring ability.
So where does the team go from here? It's hard to imagine D'Antoni will leave, given the amount of money they've committed to him and Brown over the next few seasons. They would also be admitting they made a mistake, something I believe this team is too proud and arrogant to do. The biggest question mark lies with the fate of Dwight Howard. Although not incredibly effective for large chunks of the season, Howard still showed some moments of greatness. Regardless of his play this season, Howard will still be an incredibly hot commodity in free agency, with teams like the
Houston Rockets
and
Dallas Mavericks
the most likely suitors besides the Lakers. I think he ultimately stays in Los Angeles, but his recent admission that this was a "nightmare" season doesn't support that theory at the moment.
The Lakers also have to make tough decisions regarding Kobe and Gasol. They are both entering their final and most lucrative year of their respective contracts. Kobe will make $30 million while Gasol will make $19 million, which accounts for 85% of this year's salary cap, which is almost definitely going to increase marginally next season. They also have several other players under contract for next season, which brings them to a whopping $78 million, which will only be behind Miami and Brooklyn for most in the NBA in 2013-2014. This leaves them with limited flexibility to retain Dwight and add anyone new to the team. Although it's certainly possible given that the Lakers own his Bird Rights, it's going to make it extremely difficult to keep Kobe and Gasol as well. One intriguing alternative would be to amnesty Kobe Bryant. Although it's a significant symbolic and public relations hit to the franchise, Kobe is likely not to play most or all of next season due to his Achilles injury, meaning the Lakers wouldn't be in danger of losing him to another team. Theoretically, Kobe could re-sign with the team in 2014 to end his career. Although it's an unlikely scenario, it would benefit both parties and allow the Lakers to remain competitive and financially flexible.
Although the Los Angeles Lakers came into this season with championship aspirations, the pieces the team assembled just didn't blend as quickly or as efficiently as they had hoped. The Miami Heat are just a more recent example of the fact that you can't just assemble a team of superstars and immediately find success. Big decisions need to be made about this team's future. And hey, there's always next year.
---
Josh Brackett is a pre-junior Sport Management major at Drexel University from Boston, MA. Josh has past experience in the sports industry at ClibHoops Scouting Service and the Philadelphia Freedoms of World Team Tennis. Currently, Josh is a member of the Drexel Athletics Event Management Team and he writes for his personal blog
Get Buckets NBA
. He has also recently joined the Philadelphia Eagles Ticket Office for co-op this spring summer.