The past week, sorry, the past 3 months have been a whirlwind at Rutgers University. Everyone swore that with the removal of Mike Rice as head men's basketball coach and Tim Pernetti as Athletics Director, Rutgers was finally back on the right track. Sadly, though, that has not been the case.
First, the University filled it's basketball vacancy with former Rutger's standout Eddie Jordan. The man who propelled his star, All-American career as a Scarlett Knight into the NBA where he played for 7 seasons with 4 different teams, before starting a coaching career. He began coaching at Rutgers, as a volunteer assistant, before coaching at Old Dominion and Boston College. Following his time at BC, he headed back to his (sort of) alma-mater as a full-time assistant. After 4 years back at Rutgers, he jumped to the NBA, taking coaching positions with the Kings, Nets, Wizards, Sixers, and eventually the Lakers. Following his 20 seasons coaching in the NBA, Jordan headed back to Piscataway, NJ to take over a team on the verge of their biggest move in program history, and on the back-side of a downward slope from a terrible coaching and administrative situation. Jordan, who is beloved by Rutgers fans and alumni, is believed just the man to bring the community back together.
Second, the University filled it's AD vacancy, hiring University of Louisville's
Executive Senior Associate Athletic Director and Senior Woman Administrator Julie Hermann
. Hermann spent 15 years at Louisville, as a key member pushing to move the program from the
Big East into the Atlantic Coast Conference
at the beginning of the 2014-2015 season. Naturally, this seemed like a great fit for the Scarlett Knights considering their impending move to the Big 10. Hermann received
nothing but praise
from Louisville AD Tom Jurich, saying "She did impeccable work for us. No one has said anything the past 15 years. She is beloved here."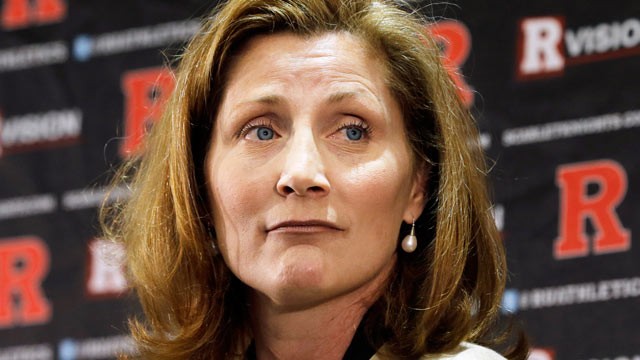 These two hires seemed to be great fits for Rutgers amid their super-storm of a situation. Wait, this is collegiate athletics in 2013, it CANNOT be THAT easy for a University to recover from a scandal as large as the
Mike Rice scandal
.
So it wasn't.
Last week, I
outlined a situation
involving Eddie Jordan at Rutgers. Jordan was hired as the newest Head Basketball coach at Rutgers, his "alma-mater" and the school that named him a member of the "Hall of Distinguished Alumni" in 2004. The only problem is: Jordan never graduated from Rutgers, although he claims to have completed the coursework. Yes, there is no NCAA or Rutgers rule requiring a coach to have a college degree, but it is concerning that during the hiring process and along with the hire, Jordan was called a Rutgers graduate by multiple administrators, and is also requiring a degree of his new assistant coaches. The man
Dick Vitale called
"a slam dunk of a hire" may have all the basketball knowledge to run a Division-I program, but does he have the educational focus required to lead his student-athletes best?
So, maybe the made a little mistake on the hiring of Jordan, depending on your view on higher education, but obviously the wouldn't screw up the hiring of their ATHLETIC DIRECTOR, right?
Well, here we are. Rutgers just cannot get out of the news. Rather than rambling on about the questions surrounding Hermann, I will make it easy and put it in a bulleted list:
Hermann served as the head women's volleyball coach at the University of Tennessee in the mid-1990's. In 1996, a group of 15 women from her team wrote and signed a letter of concern (which apparently never got into the hands of Tennessee administrators or Hermann) claiming that "Jules", as they called her, was emotionally and mentally abusive towards the team. Apparently calling them "whores, alcoholics, and learning disabled". This is terribly relevant to this hire as the whole reason Rutgers needed a new AD was because of the physical, emotional, and mental abuse of their men's basketball players at the hands of Mike Rice.
Also during her time at Tennessee, Hermann was sued by assistant volleyball coach, Ginger Hineline who claimed that Hermann discouraged her from getting pregnant as it would lead to her not being able to coach. Hineline was rewarded $150,000 in a settlement in 1997.
Also, while serving as the Senior Women's Administrator at the University of Louisville, which is a position created to ensure equality in athletic departments between men and women, Hermann was approached by assistant track and field coach, Mary Banker. Banker described sexist behavior and discriminatory treatment by head track and field coach Ron Mann. Hermann was a first supportive of Banker, but as soon as Banker reported the abuse to the University of Louisville Human Resources department, Hermann flipped the script, claiming that she should not have gone to HR and could not see how she could instill trust in her again. Banker was fired 3 weeks later, supposedly based on performance.
Considering the fact that the headhunter firm, Parker Executive Search, didn't even include Hermann in their original list of possible candidates (which included 47 names) is slightly worrying. Also, after deciding to bring Hermann in as one of the two finalists for the position, alongside the University of Wisconsin' Deputy Athletics Director Sean Frazier, Rutgers paid Parker Executive Search $70,000 to complete the
background check
that uncovered the letter from the Tennessee volleyball players, mentioned above. At most other institutions, this story that was discovered would have been an immediate red-flag, especially considering the horrible similarities it had with Mike Rice. At Rutgers, however, they took the issue with a grain of salt and valued the opinions of Hermann and her former bosses and co-workers above that of the student-athletes she supposedly abused. What is the point of paying for a background check if the major details you uncover are not thoroughly investigated.
I'm not sure if Rutgers will fire Hermann before she even starts as Athletic Director, or if they will continue to back the hire and fight through the scrutiny. Rutgers President Robert Barchi and the Board of Directors clearly will continue to back Hermann, considering if they fire her, it would pretty much guarantee the removal of Barchi and more bad press for the Board.
It will be interesting to see what happens next at Rutgers. Will Hermann still be leading the department going into their transfer to the Big 10 this fall? Will Barchi still have a job, depending on the amount of bad press the school receives? What kind of uprising and complaints will come from the athletes, the faculty, and the students?
The students and members of the Rutgers community deserve more from University leadership.
---
Kevin Murray is a sophomore Sport Management Major at Drexel University. He is originally from Havertown, PA, a small suburb of Philadelphia. He worked in the Drexel Sport Management Department as a Research Assistant focusing on the Penn State scandal, equity in collegiate sports, and Title IX. Currently, Kevin is the SMTSU Treasurer and Drexel Athletics Marketing Intern. You can follow Kevin on Twitter
@kevinj_murray
.