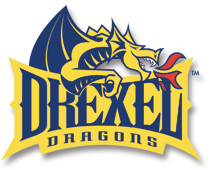 Name
: Kevin Murray
Year: Sophomore
Company: Drexel Athletic Department
Location: Daskalaskis Athletic Center
What is the Drexel Athletic Department?
The Drexel Athletic Department is the section of Drexel University that manages the schools 18 Division-I athletic teams, club sports, and campus recreation. The department is managed by Director of Athletics Dr. Eric Zillmer.
Now in his 15th year as Director of Athletics, Dr. Zillmer oversees all components of the Athletics Department.
What is your job title?

My job title is "Spring Marketing Coordinator". I work within the sub-department of "External Relations", which includes marketing, promotions, ticketing, sponsorship, development, and communications.
What are your Responsibilities?
Some of my job responsibilities include:
Assist in all aspects of marketing and promotions surrounding Drexel Athletics

Add new and update old information, pictures, and videos on the Drexel Athletics Hall of Fame

Manage student workers in the ticket office during Athletics events

Manage ticket and merchandise inventory, including budgets, for Drexel Athletics

Plan marketing events and secure partnerships for Athletics events

Create promotional materials for all Athletics events
Do you like your job?
I love my job! Working in the external relations section of a small athletic department has given me the opportunity to do many different things, work with a lot of different people, and grow professionally. The Drexel Athletic Department has a strong family feel that makes work much easier.
Downsides?

The only notable downsides to my job are not getting paid and working many nights and weekends. The latter is not terrible, because those nights and weekends I am working at sporting events, basically I get to watch sports.
What am I looking forward to?
I am looking forward to completing my co-op next month and hopefully staying on part-time with the department in the fall. I have found an interest in college athletics during my co-op experience and could definitely see myself working in the field in the future.
---
Previous:
Ryan Pratt
Mike Proska
---
Kevin Murray is a sophomore Sport Management Major at Drexel University. He is originally from Havertown, PA, a small suburb of Philadelphia. He worked in the Drexel Sport Management Department as a Research Assistant focusing on the Penn State scandal, equity in collegiate sports, and Title IX. Currently, Kevin is the SMTSU Treasurer and Drexel Athletics Marketing Intern. You can follow Kevin on Twitter
@kevinj_murray
.